Peru Trekking
Trekking in Peru can provide you with an excellent sense of adventure and excitement due to the variety of terrain and treks available. Peru can give you the chance to view some of nature´s most wonderful creations from the peaks of the Andes to the Amazon rainforest. On your trip you can experience magnificent views and some of the best treks in the world that will be unforgettable to seasoned hikers and people looking for something different form their holiday.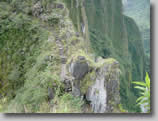 One of the world´s most famous hikes that you can participate in on your trip to Peru is the classic Inca trail. The Inca trail is world renowned and thousands of people every year take part in the hike across the Andes to discover the lost world of Machu Picchu. The classic trek involves covering twenty-eight miles of the Incas stone laid path to Machu Picchu as used by the Incan people to get to Machu Picchu. The four day and three night trek enables you to view Inca ruins, the brilliance of the Andes and on the final day of your trip you will arrive at the sun gate of Machu Picchu giving you the opportunity to see the sun rise over the beautiful lost city itself. If however you feel that the four day Inca trek is to long for you, there are other options that allow you to experience the Inca trail and also enjoy the beauty of the scenery without having to participate in the full four day trek. The shorter option involves you arriving by train six hours hiking distance away from Machu Picchu, from here you will hike until you arrive at the sun gate of Machu Picchu in exactly the same way as if you were participating in the four day Inca trail. After your guided tour of Machu Picchu you will stop at the Aguas Calientes hotel and on the next day you will return to Machu Picchu at dawn to see the ruins in perfect condition and without hordes of tourists. You have a full day at the site to explore at your leisure, before you return to Cusco by train in the evening.
For More Information on Machu Picchu Please Click Here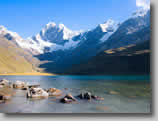 Another excellent trek available to you in Peru is the central Andes trek which involves trekking around the Huaraz area offering one of the best high-altitude trekking experiences in Peru if not the world. There are many treks available however the four day classic trek is the most popular which allows you to take in the full natural beauty of the Andes. Your trip will involve you being accompanied by an English-speaking guide where you will firstly visit the entrance the Huascaran National Park, from which you will discover some beautiful sites such as valleys, glacial lakes and of course the mountains themselves with your trek finally ending in the town of Caraz.