Peru Travel Information
When travelling to Peru there is some important information that you should consider before your journey therefore we have compiled a list for you to look at before you set off for your Peruvian holiday.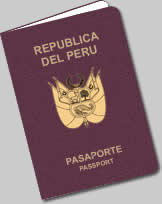 It is always a good idea to consider the time of year that you visit Peru as there are wet and dry seasons throughout the different regchns which can cause you problems on your arrival if you have packed the wrong type of clothing as you were expecting the temperature to be hotter or colder. As a rough guide you will find that the summer regions of the coast are usually extremely hot and sunny during the dry season that last from December to April. The mountain regions have a slightly different dry season that lasts from April to October when the conditions range from hot temperatures during the day with little rain, followed by a dip in temperature as nightfall approaches. The jungle region of Peru has a similar dry season to the mountains as it lasts from April to October were during this period temperatures can average between 30-35°C. To summarize you will find the best weather on the coast during January with the mountain and jungle regions being visited after the wet season is a good rule of thumb when Peru.
For More Information on Peru Weather Please Click Here
When travelling from the United Kingdom to Peru it is common for you to arrive in Lima, the capital of Peru as this is often the destination for many international flights. The high season for these flights is December, July and August with relatively low fares coming between September to November and January to June. As there are no direct flights from the U.K to Peru it is highly likely that you will have to change planes in either Europe or America before reaching your destination in Peru. The flight can take around sixteen to twenty-two hours all depending on the route taken and connection times between flights. The prices of fares will vary greatly depending on the routing and changeovers of the flight, however the best advice that I can offer you is to look around as many internet comparison sites as possible and check travel agents prices in order to get the best deal.
If you are travelling to Peru as an EU citizen you are allowed to visit Peru as a tourist for up to nineteen days without a visa. You will also need a tourist embarkation card in order to enter Peru which should be given to you on the plane which is valid between sixty and ninety days. If you wish to extend you visa whilst in Peru it would be best to visit the migrations office or cross the border of Peru then re-enter the country to save the bureaucratic rigmarole.