Peru Amazon Guide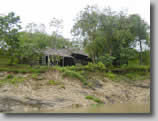 The Amazon rainforest stretches over a vast area of South America and covers an area of seven million kilometers (1.2 billion acres) with the amazon rainforest covering an area of 5,500,000km running through a range of South American countries such as Brazil, Colombia, Venezuela, bolivia and Peru. The Amazon contains over half of the planet's remaining rainforests and has the largest majority of species throughout the worlds rainforest population containing over 70% of the worlds species.
The Peruvian part of the Amazon jungle is considered to be one of the best parts of the Amazon as in this area of Peru it is believed to be untouched, as other areas throughout the Amazon have been affected by deforestation however the Amazon baisin of Peru is protected by law. The area in which the amazon is located in Peru is to the Northeast of the country and covers nearly two thirds of Peru itself.
If you are visiting the Amazon baisin in Peru your journey will often start with a visit to the neighbouring city of Iquitos which is used as a base for any visit to the Amazon. The city of Iquitos is totally surrounded by jungle and can only be reached via plane or boat and once you arrive it will be your gateway to the jungle. There are many places of interest in Iquitos including a trip to Quistococha that has its own museum, hiking trails and private beach. However the main reason for visiting Iquitos is to start your journey through the Amazon.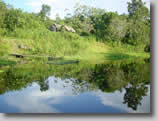 There are many trips available to the Amazon encompassing a range of activities to suit your individual taste. This can range from staying in a jungle lodge from which you will be able to discover the many different types of species and wildlife that live in the rainforest plus visit local tribes and villiagers throughout the jungle that will give you a once in a lifetime oppourtunity. You will also be able to take trips along the Amazon river itself with a range of companies offering tours for Amazon river trips.
For More Information on Amazon River Trips Please Click Here
Other ways to see the jungle include Amazon river fishing trips where you can combine wonderful views and activities on the Amazon whilst also trying a new experience of fishing the Amazon river.
For More Information on Amazon Fishing Trips Please Click Here