Peru Amazon Fishing Trips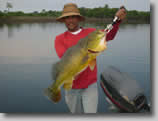 Amazon River fishing trips are a must for any fisherman as it gives you the perfect opportunity to fish for new and exciting fish. The prize of which being the peacock bass that is regarded as one of the strongest and most fierce fish in the world. Freshwater fishing in the Amazon is a must for any adventurous angler who wants to test their fishing skills in a completely new environment from the U.K. The River Amazon will allow you the chance to fish for over twenty different types of fish each with some of the most beautiful and elusive fish in the world, the Amazon provides any angler with a excellent new challenge.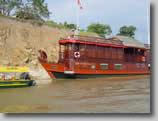 One of the best fishing trips available in South America is to fish the Amazon River with Dawn on the Amazon fishing trips. Dawn on the Amazon can provide you with a wide range of fishing trips tailored to your individual needs ranging from one to seven day fishing trips. The boat on which you will travel on the River Amazon is called the Dawn on the Amazon III which is 65 feet long and can comfortably accommodate eight people on each cruise. The size of the boat also enables you to visit remote areas of the River Amazon such as tributaries and lagoons that other much larger cruise ships are unable to negotiate. With the Dawn on the Amazon as your base you will use a small river boat in order to travel and fish various sections of the Amazon River to give you the chance to catch a large array of species from the peacock bass to black piranhas.
For More Information on Amazon River Trips Please Click Here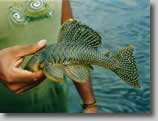 The freshwater fish that you can fish for in the Amazon River include the infamous Peacock Bass which is an extremely strong fish that has a great strike and has been known to break fishing lines. Also in the Amazon River are fish such as the Red-Bellied Piranha that has a world wide reputation as one of the most dangerous fish in the world with extremely sharp teeth, another variety of Piranha named the Black Piranha is also available to catch in the Amazon River. Another famous fish to catch in th Amazon River is the Pacu which can weigh up to 50lbs and can provide you with a great fight when hooked on your bait.
For More Information on Amazon Fishing Trips Please Click Here