Peru Facts
There are many interesting and unknown facts about Peru and on this page we aim to enlighten you on all the facts you need to know if you are planning a visit to Peru.
>>The official language of Peru is Spanish however Quechua is also recognised as an official language.
>>The official currency of Peru is the Nuevo Sol (S/.) and there are 100 céntimole (cents) in one sol. The sol is available in a range of bank notes from 10, 20, 50, 100, 200. There is also a selection of coins in use in Peru these are 1, 2 and 5 Neuvos Soles, other coins that are in circulation are 5, 10, 20 and 50 céntimole.
For More Information on Peru Money Please Click Here
>>The location of Peru is to the west of South America, bordering the South Pacific Ocean, between Chile and Ecuador.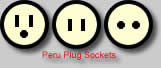 >>The Electrical current is 220 volts, 60Hz (Arequipa 50Hz). Two-pin, flat blade and round plugs are the standard in Peru (Pictured right).
>>The population of Peru is 28,674,757 with the capital Lima being the most densely populated with over seven million inhabitants.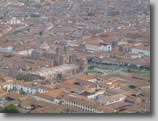 >>The weather in Peru varies depending on your location in the country as to the coast the weather is generally sunny with little rain, however from April to November there may be heavy sea mist. The highland areas of Peru have a wet season from October to April and a dry season starting in May and ending in September. Around this time you will find that the days are clear and sunny but very cold at night especially at altitude.
For a Regional 7 day Forecast of Peru Please Click Here
>>Lima International is the main destination airport for flights travlling to Peru, however there are many airports throughout Peru for easy travel and transfers. Other ways of travel in Peru include the bus, train or hire car proving the best for holidaymakers.
>>The timezone of Peru is GMT-5.